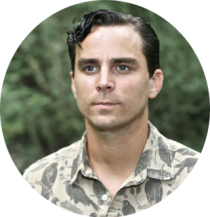 JOHN MCGREW
MUSIC & LYRICS
John McGrew is a composer, singer, multi-instrumentalist, teacher, and performer currently residing in Brooklyn, NY.
Born in Ohio, McGrew was raised in a family of musicians, surrounded by madrigals, operas, and hand-built harpsichords. He studied piano and trumpet formally throughout his childhood, and while studying theater at the University of North Carolina, began to write electronic and rock compositions. Upon graduation, McGrew hauled his keyboard and trumpet north to New York City and started a band, John McGrew & The Sitbacks.
McGrew's desire to compose lyrical and textured melodies soon extended beyond his work with the Sitbacks to compositions for theater and dance. In 2008, McGrew composed music for the Hunter College High School production of Shakespeare's Two Noble Kinsmen, later collected on the album Bells and Bones. The New York Times called McGrew's music for the Jack Ferver dance performance piece Death Is Certain both "ominous" and "delicate." His musicals (one based on the myth Cupid & Psyche with lyrics by Jon Karpinos, and one inspired by the work of Apollo Run's Here Be Dragons series) were the central piece for youth performers at the Acting Manitou performing arts camp in Maine in 2009 and 2012, where McGrew acts as musical director. In 2009, McGrew was invited by to create and perform a piece for DanSpace Project's Food For Thought, a night that honored the year's most influential artists from the dance world. McGrew composed/performed original music for Judith Sanchez Ruiz' Site Specific performance at Invisible Dog Art Center, Colleen Thomas' Anatomy of a Viciously Sweet: A. Love; B. Lust; C. Life; with Zenon Dance Company in Minneapolis, and for Bill Young/Colleen Thomas' A Place In France at 100 Grand in NYC. McGrew has continued his annual work with Hunter College High School, composing and music directing original work for Winter's Tale, Cymbeline, and Comedy of Errors. In 2013, McGrew was asked to compose the theme music for the TED Talk conference, TED Talk: The Young. The Wise. The Undiscovered. (with Graham Fisk, artist Oliver Jeffers, and videographer Mac Premo).
McGrew pioneered an interactive, multimedia course entitled "Igniting the Creative Process" which he has been teaching both publicly and privately over the past six years. McGrew is also currently the Music Director at The Choo Choo Train Project in Brooklyn, NY. The Choo Choo Project is a creativity-based school for 3 to 5 year olds.
McGrew performs across the country with his Brooklyn-based rock group Apollo Run, whose "talent for quickly jelling melodies" was recognized by NPR's Song of the Day, among others, including HuffingtonPost, Time Out NY, Crawdaddy!, LAist.com, and FutureSounds.com. Apollo Run released their debut full length record, Here Be Dragons, Vol. III, in September of 2012. McGrew also composed/performed for Enrico Wey's Where We Are Right Now as part of LMCC's 2014 River to River Fest and just finished a composition for Tony Orrico's recreation of Yvonne Rainer's Hand Movie.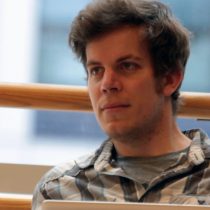 JONATHAN KARPINOS
BOOK & LYRICS
Jonathan Karpinos is a playwright based in New York. In addition to The Village of Vale, current projects include Lost Letters (with composer Creighton Irons), which recently premiered at Bloomington Playwrights Project. Other plays have been featured at Freeplay (NYU), Studio Tisch (NYU), the Louis Armstrong House Museum, and Pew-ish. Jonathan holds a MFA from Queens College, where he also taught writing, was a fellow in the Louis Armstrong Archives, and published an essay on the challenge of translating 2200-year-old Latin puns. He is the co-author (with Benji Goldsmith and Meg Sturiano) of The Average Achievers, a musical for young actors, which received its New York premiere at Hunter College High School. He is a native of North Carolina and a graduate of UNC-Chapel Hill.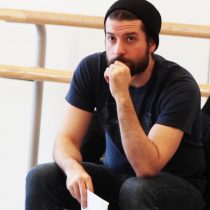 JOSEPH VARCA
BOOK & LYRICS
Joseph Varca is an actor, director and filmmaker based in New York. His work as a director has been seen twice at the NY Fringe Festival and include an adaptation of Kafka's Amerika (Winner Best Ensemble) and the original production I Was Tom Cruise (Winner Outstanding Play). His work in film as a director and producer has debuted at the TriBeCa and Austin Film Festivals.
He made his Broadway debut in Network directed by Ivo van Hove and has appeared in Off-Broadway productions of Pentecost and Monster at Atlantic Stage 2,  LoveSick at 59E59th as well as NY premieres of Cut by Crystal Skillman and Song For A Future Generation by Joe Tracz. He helped develop and performed in productions of As Far As We Know (Drama League: New Works, New Directors grant recipient, NY Fringe) and A Man of Wealth and Taste (Harkness Dance Festival) directed by Nancy Bannon. Work in Film and TV has included Bastards of Young (IFP Narrative Labs Recipient), Bristel Goodman (Palm Springs International Film Festival), Listen My Children (Chiller TV), American Genius (National Geographic Channel) and the feature film Lapsis which he also produced and will have its world premiere in Narrative Competition at SXSW in 2020
He is a graduate of Middlebury College where he is an Associate Artist of the Midd PlayLab weeklong summer intensive that connects current students with experienced alumni offering master classes alongside the development of new plays.<